Short-Term Leasing
Ardmore Winthrop periodically has vacant units in its Winthrop Terrace building located at 5734 N. Winthrop Ave. that are available for short-term rental. All utilities, including heat, water, electric, cooking gas, internet and air conditioning, are included in the pricing.
Units may be furnished or unfurnished according to your preference. Unfurnished unit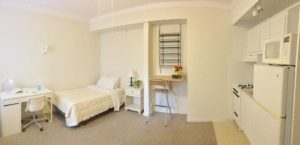 s can be furnished for an additional cost if the necessary furniture is available.
Those looking to rent short-term with Ardmore Winthrop Properties must meet the following short-term requirements:
Short-term leases must be a minimum of 4 months
Documentation of the reason (work assignment, internship, school term, etc.) for the need of a short-term lease, indicating specific starting and ending dates, will be required with the application in order to be considered for a short-term lease. You may apply online for the apartment here.
Acceptable results from a credit and criminal background check
Verified rental history
Verified employment history
If you believe a short term lease with Ardmore Winthrop might be the right fit for you, please feel free to call (773-271-4132) or email (office@awchicago.com) for availability and pricing.