5700 N. Winthrop Avenue
There is old-world charm to spare in the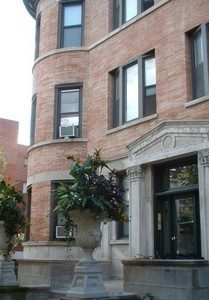 se turn-of-the-century apartments. The one and two-bedroom apartments of this unique, vintage structure retain the alluring grace of an age when elegance was the rule, from the high vaulted ceilings to the intricate moldings. The building's rounded corners and large windows afford spectacular sunlight and dramatic seating areas.
Hardwood floors and woodwork accentuate the classic design of these impeccable living spaces. Concessions to contemporary convenience—from the n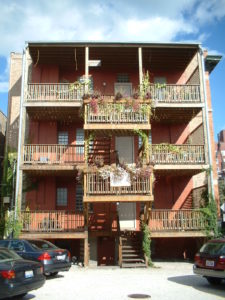 ew loft-like kitchens and baths to the discreet sun deck–have done nothing to dispel the traditional appeal of these apartments. The wide array of amenities in this pet-friendly building (one cat or one dog under 30 lbs. is allowed) include on-site laundry facilities, a choice of cable providers and extra storage space. Cooking gas, heat and water are included in the rent. Parking is available at your back door in an assigned space (Indoor: $165/mo., Outdoor: $140/mo.).
Below are some sample layouts.  For layouts of the available apartments, please use the Contact email.
One Bedroom Layout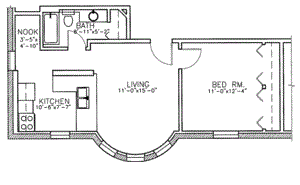 One Bedroom Layout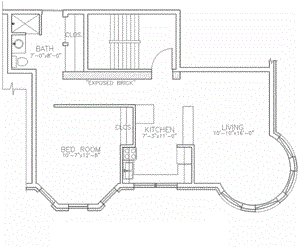 Two Bedroom Layout